INSTRUCTIONS FOR INSTALLATION:
This download is for Windows operating systems only
Download the ZIP file by clicking on free download (takes about three minutes average)

Warning: Google Chrome warns that it may not be a regular file and displays a button to reject, select the side arrow and select Save

A file named ACUFREE.zip will be downloaded (in general is downloaded to the folder c:/my documentos/downloads, but you can download it in any folder on Windows)

Unzip the file with WinZip or any other compressor.

You will see appearing a series of files in the same folder: double-click on the Setup.exe file

Start the Setup program. Always answer if or next until the installation process is complete and then restart PC

The installation has created an icon on your desktop. When you run the program for the first time, it will show you: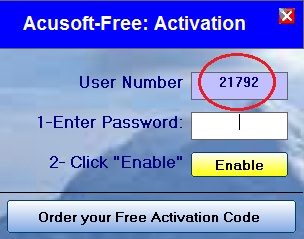 Click where it says:
"Request your free activation code" then appears the form to ask for the key to empowerment, complete and soon will receive it in your email.
When you receive the "password", enter it and start enjoying this Acusoft tool.